San Francisco is definitely a tourist town with so many things to see and do. Some of the best restaurants in the world are in the Bay Area. It's no wonder that RIMS has chosen SF as the host city for the annual conference this year.
TrustLayer was founded in San Francisco in 2018, so we know a little bit about the Bay Area and will be giving you some tips on food, drinks, coffee, cool spots, and some random fun things to do. Hint: You'll have to venture away from the Moscone Center for the cool stuff! Good thing SF is basically 7x7 (7 miles North to South, 7 miles East to West).
There are many sites that cover SF food, tourist attractions, bars, and even free things to do. I'll leave a few links here for things like Michelin Star restaurants, Alcatraz tours, dive bars, places Anthony Bourdain visited, etc... I'll be focusing on places that may not be on those lists and spots that I take out-of-towners to experience my SF! I'm a sucker for a good croissant, single-origin coffee, stiff drinks, great views (w/ a drink = rooftop bars), and ice cream!
While you're at it...make sure to meet with the TrustLayer team at RIMS booth #2110! Book some time below 👇
Around Moscone (SOMA) & Financial District (FiDi)
Most locals will tell you that Fidi and Soma are dead at night and just bustling during the day, but there are some hidden gems, if you know where to look! Besides all the names I drop below, here some places and things you might enjoy!
During the day, just sitting in Yerba Buena gardens is nice and relaxing, if you need a rest from the hectic conference agenda.
Looking to get some shopping in? Head over to Union Square where you'll find all the luxury brands stores, the mall, and the central square itself.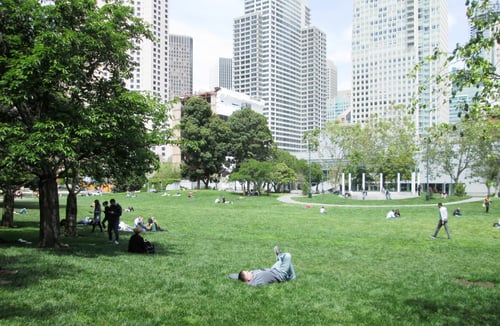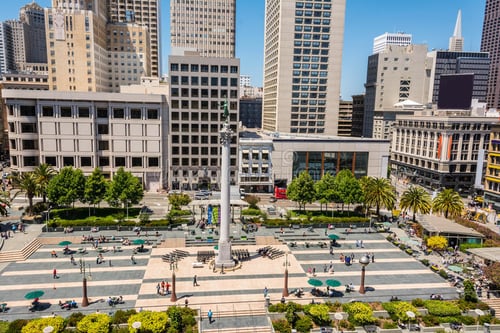 If you're into Tiki bars, Pagan Idol is the place to be at Happy Hour.
Get your steps in at Salesforce park or take a ferry to Sausalito from the Ferry building.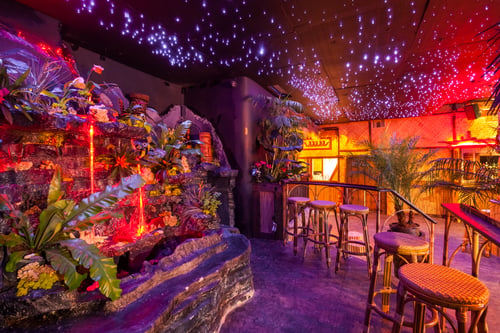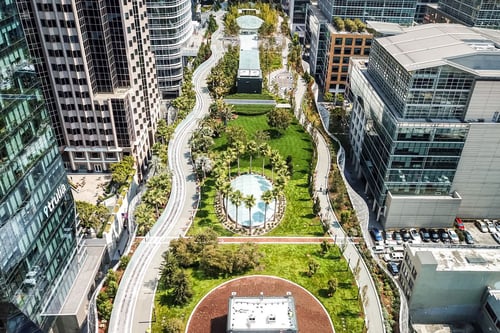 There's tons of art galleries in the area like Minna Gallery, SFMOMA, and outdoor art in random places (in green spaces between buildings).
And not-so-random places (Rincon Park - you can't miss it, it's marked by a huge cupid bow and arrow).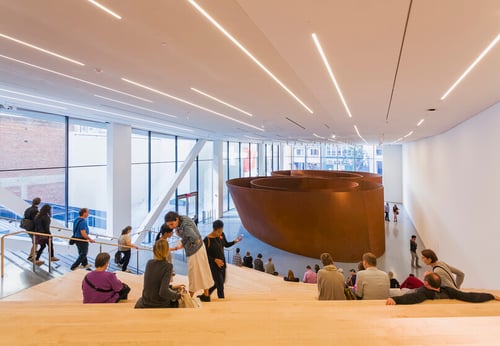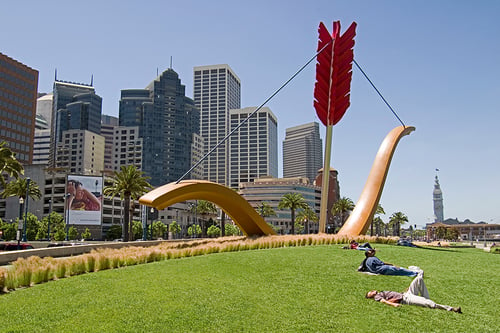 My perfect conference day (ie, places within a few blocks from Moscone)
Morning ☕️
I'd walk a block to grab a coffee and croissant at Blue Bottle Mint Plaza to start the day. They have a fancy siphon coffee bar there. Pair that brew method with a nice Ethiopian coffee and you have a recipe for a berry blast in your mouth!
Afternoon activities 🔆
After a full morning of risk management content and sessions. I'd hop out for a quick bite at Sushirrito, Super Duper Burger or The Bird. Yes, Seaweed burritos with sushi inside (like huge rolls). I know it sounds crazy, but it's delicious - Geisha's Kiss and a side of Lava Nachos! *Chef's Kiss*
On the way back, head through the SFMOMA and grab a Gibraltar (aka Cortado) at the Siteglasss Coffee stand and check out the free exhibits in the lobby.
At the end of the day, I'd head up to Market Street and walk down the steps underground into Local Edition for some fancy Happy Hour drinks. This place definitely has character and some great mixologists doing their thing.
Nighttime 🍸
Dinner would be at The Cavalier (Pork chop or Marlowe Burger), Mourad (everything is amazing here), Kin Khao (fancy Thai food), or Benu (if you want to live that Michelin Star life).
To end the night, some cocktails and a night cap are a must! I'm not always in SOMA, but when I am, I definitely visit Novela, a unique literary-themed bar with book-lined walls. It's chill, different, and definitely is a vibe. For wine-lovers, there's Press Club; which, fun fact, doubles as a co-working space during the day through Spacious. Southside Spirit House is another fun bar that opens late. I'm a whiskey-lover, so this place definitely warms my heart and soul (and stomach). If you're staying in the Marriott, you're in luck. The View Lounge, at the top of the Marriott, is actually an amazing bar with great views. It's a little pricey, but did I mention the views?!!!
There's lots of fun to be had at Golden Gate Park. You can just walk and walk for miles, check out the museums, and even see some bison. It's larger than New York's Central Park, so you'll be able to find your own little slice to chillax in. Need views of the ocean? Try a picnic in the Presidio. Time it right with the off-the-grid food truck events and a sunny day for a great bayside outing!
💡Did you know that there are privately owned public open spaces (aka POPOS) that have been a development requirement in San Francisco since the passage of the 1985 Downtown Plan. These are great to imagine you're not in a concrete jungle, if only for your 30-minute lunch break. Here's the full list.
Clam chowder at Fisherman's Wharf can get crowded. Take a ferry over to Sausalito instead and have an Oyster happy hour and maybe a scoop of Ice cream from Lappert's and enjoy the sunset. While you're on the other side of the Golden Gate, take a hike in Marin, or get the best view of SF from Hawk Hill (way above Battery Spencer).
Like other major cities, you got your world-class music venues, sporting events, a zoo, historic golf courses, and more. For some random fun, there's Urban Putt, Delores Park, and the Observatory at the DeYoung Museum. Each neighborhood is a unique adventure in and of itself. Get out there and explore and find out for yourself!
🍕Food
Hook Fish Co
Rintaro
Marlowe
🍷 Drinks
Wilson & Wilson
Rickhouse
Mikkeller Bar
🍮 Brunch
Plow
Brenda's French Soul Food
Kitchen Story
☕️ Coffee
Blue Bottle
Sightglass
Andytown
🍨 Ice cream
Mr & Mrs Miscellaneous
Garden Creamery
Mitchell's
🥐 Pastries
Tartine
B Patisserie
Arsicault
🌄 Views
Bernal Heights Park
Twin Peaks
Golden Gate Overlook
🤹‍♀️ Random
Urban Putt
Warming Hutt
Salesforce Park
🍝 Like Italian food and wine? So does our CTO, Vincenzo! Here's one of the very few Vincenzo-approved Italian places in SF (surprisingly, it's closer to ChinaTown than Little Italy) — Alto Vino.
There's nothing to see on Treasure Island. There's a flea market there that may be interesting (last weekend of every month). Pair that with a visit to Aracely Cafe for brunch, and that would be a weekend morning well spent. Alcatraz is not worth it. Do take a sunset sip and sail cruise in the bay. Walking or riding across the Golden Gate Bridge is epic! Microclimates are a thing in SF. The real Chinatown is in the Richmond District. Kouign Amanns (full stop).
I didn't cover the East Bay, South Bay, Wine Country, North Bay, or Sonoma County (even more north). All these areas boast amazing wine, beer, cheese, ethnic cuisine, seaside port vibes, mountain views, big trees, and more!
Want some more suggestions or have a question about San Francisco? Email me: tana@trustlayer.io. I love showing people what the Bay Area is really all about - it's not just tech, VC, homeless, hipsters, and tourist traps!
Looking forward to connecting,
Tana
Meet with TrustLayer at RIMS 2022